"Black mustard" is what people call the thick oil that is often visible — particularly at sunset — on the surface of Newtown Creek, which runs between Queens and Brooklyn in New York City. The estimated 30 million gallons of oil is one of many toxins in the creek, an Environmental Protection Agency Superfund site.  
This would seem an unlikely place to not only inspire, but to also be the venue for an opera, but it is. The opera Newtown Odyssey, by UC Davis professor Kurt Rohde, visual artist Marie Lorenz and writer Dana Spiotta, will  premiere this weekend. 
Walk led to the opera  
The idea for an opera about and on the creek came to the surface several years ago when Rohde was visiting New York and he and Lorenz took a walk along the waterway.  
"I looked at it and said, 'This is something. We should make an opera about this space,'" recalled Rohde, a native of New York. "I just thought that there was something so different about it from any other place in a metropolitan area. This seems like the type of place where a story can be told with music."  
Rohde has done operas in the past, but not anything quite like this. It is his first work to be performed outside, and it's not an outside narrative brought into the concert space;  the concert space itself is the narrative.

"No constructed indoor concert hall can capture the fullness of our Newtown Creek site," Rohde said. "This is a spot where a lot of the joys and disappointments of our place in history seem to mix together."  
Expanding the definition of opera 
Rohde describes himself as a musician who writes music, an important distinction because Rohde takes a participatory approach to creating his work, often performing. Rohde's music and sounds color and intensify the libretto by Spiotta, who lives near the performance site and teaches at Syracuse University.  
Opera is often considered a total art form that is made up of music, words, dance and visual artistry from sets to costumes to special effects. Newtown Odyssey has all that but takes it to a new level by engaging with activists, the site's history, scientific analysis and more. Spiotta created a narrative that could convey the history of the creek and also its essence today that includes elements of fantasy.  
Artist Marie Lorenz test rowing the "Wave Chime."
Visual elements and sonic sculptures — some constructed from objects found at the site — were created by Lorenz and emphasize that a fourth artist is always present: the Newtown Creek environment. The water lapping at the shore, the wind traversing the landscape and a nearby cement factory add a very real soundtrack of their own.  
Most of the audience will view the opera from the Queens shoreline while some will watch from canoes on the creek. This confluence of urban industry and nature are precisely what the creators were interested in when they embarked on the project three years ago.  
During the performance, which is meant to begin like any other day on the creek, guides in safety yellow vests escort attendees to the various scenes and sites. One is an absurdly large lifeguard chair, overlooking the creek, whose water is dangerous to contact. Rohde performs as a fiddler employed by a fictional oil baron of the 1800s.
Another scene is a sort of mini barge on which "Citizen Scientist" samples and tests the water, revealing all the pollutants. Meanwhile, "Developer" conceives of a futuristic project of glass-bottomed boats that people will live in on the creek. And emerging from the shores is a sort of "Creek Being," played by soprano Charlotte Mundy, who sings: 
Pools of glistening oil make 
A perfect mirror: the city skyline  
Or your faces peering down 
Maximize, monetize Getty, Texaco, and Exxon 
Pour in your overflow, your waste, your excreta Slurry, copper, and sulfuric acid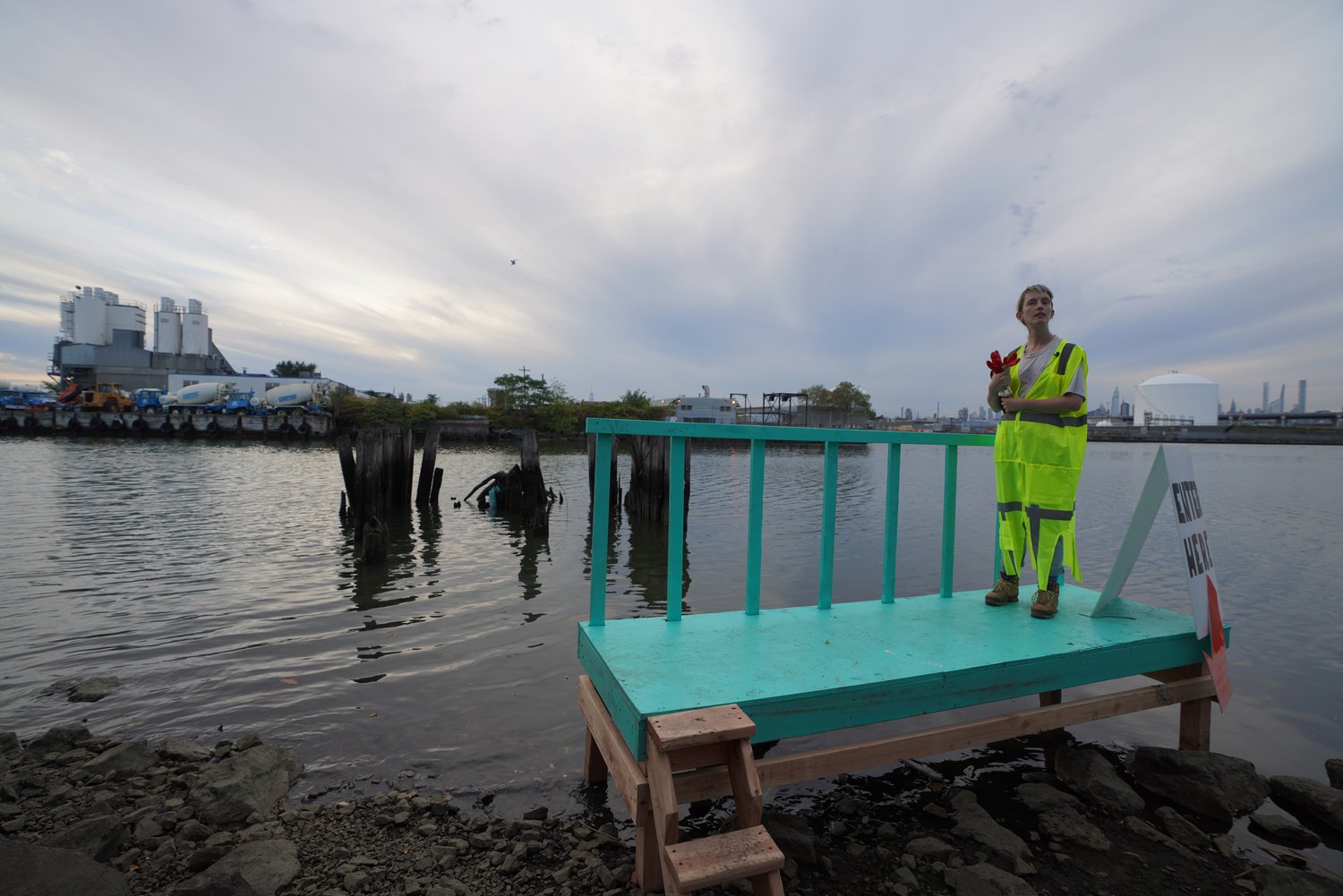 Singer Charlotte Mundy rehearses on a platform built for the opera in the creek.
The creators of Newtown Odyssey convince onlookers that what they are seeing and experiencing is both tragic and beautiful at the same time — a sort of new nature that encompasses the surrounding urbanism, the ecological disaster, and resiliency of the creek itself. 
Newtown Odyssey will be performed Sept. 9 and 10. It is made possible by funding from Creative Capital, the Puffin Foundation, a National Endowment for the Arts Research Grant in the Arts, UC Davis and others. 
Rohde, Spiotta and Marie Lorenz were recently interviewed for the YouTube video series "Reflections on Music and Nature" by UC Davis alumnus and former Rohde student Ryan Suleiman (Ph.D., music composition and theory, '20). 
Photos courtesy of Newtown Odyssey/Creative Capital.
-Jeffrey Day is content strategist in the UC Davis College of Letters and Science. Phil Daley is events and publicity manager, Department of Music. This story is republished from the College of Letters and Science website.
Primary Category
Secondary Categories
Tags